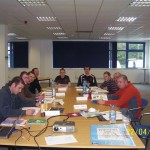 11th May 2007
10 team leaders at Martin Rees Electrical Contractors Ltd. have completed a full certified course to enable them to work in areas which may contain asbestos or have possible contamination by the deadly asbestos dust. Many projects come to a complete standstill if asbestos is discovered or even suspected during the renovation of a building or even undertaking simple work like replacing electrical sockets and light switches. This can cause costly delays while specialist contractors are called in to deal with the problem – areas of buildings or even whole buildings may need to be closed off until specialist contractors and equipment can be brought it. In some buildings the safest option is not to remove asbestos but to ensure that the location is known and it is not disturbed. This can cause difficulties for owners of buildings who then wish to undertake even simple work such as adding more electrical outlets or rewiring part of the building. Following the training undertaken by the environmental risk specialists at National Britannia, Martin Rees Electrical Contractors will be able to advise building owners of the potential problems and how best to overcome them. This approach results in the contractor undertaking work in the safest manner not only for the workers but also the occupiers of the building and surroundings.
Martin Rees, the owner of the company said "We did find it funny and hot and stuffy at times to be dressed in all the protective gear, but we all realised the seriousness of the issue and how important it was to protect ourselves, our clients and the general public. We take safety very seriously and I am very proud of how hard everyone worked and we have already put our training into practice in our everyday work. We do a lot of work in schools, and in the local communities where we live, so when we are following the procedures we were taught we are protecting ourselves, our families and our neighbours".
About Martin Rees Electrical Contractors Ltd.
Martin Rees Electrical Contractors Limited began in 1992 and since then has grown to be one of the largest electrical contractors in mid and south Wales. During that time we have built an enviable reputation for the quality of work and the high level of our customer service.
We are a progressive company with a permanent team of competent electrical engineers, with a commitment to the future with an ongoing apprenticeship scheme.
Our company is active in a wide range of markets providing electrical services to schools, offices, hospitals, industrial estates and private housing. We can also cater for testing and commissioning of any installation.
We pride ourselves in our ability to carry out all types of work, to the highest standards, within demanding timescale's and with due regard to our pro-active environmental, and health and safety policies.
About Asbestos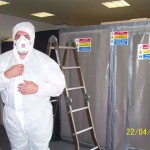 Asbestos is a mineral used in building materials and is believed to be present in around 85% of all UK properties, including half a million commercial premises.
Why is it a problem?
Britain banned the import and use of most asbestos products in 1999, because airborne fibres, released if the material is disturbed, can cause Mesothelioma (a type of cancer) and other lung diseases. Each year over 3,500 people in the U.K.die due to such exposure.
Who is at risk?
Anyone using a building containing asbestos, particularly refurbishment, repair or maintenance workers, such as carpenters, electricians or plumbers, who are likely to disturb the substance. Those engaged in removing asbestos are especially at risk.
Where is it found?
In over 3000 different products such as insulating board, pipe lagging, roofing felt or corrugated sheets, it can be found as a spray coating on girders, in certain cement types, in textured ceiling coating, on vinyl floor tiles and in bitumen.